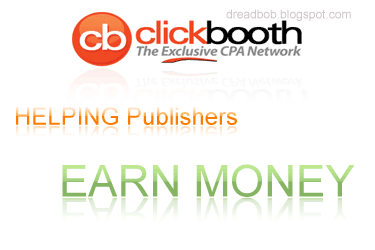 June 10, 2008
Clickbooth.com is a leading company on the Internet today. They are one of the best CPA affiliate networks, with vast experience in today's market & is providing publishers the best solutions & help them in monetizing their Web sites. Clickbooth is dealing with industry's big advertisers like 'RealArcade', 'America Online' & publishers like ' YAHOO Inc.' 'Google'.
Clickbooth offers publishers CPA advertising on their web sites which in turn helps in generating revenue for the publishers.
What is CPA in Clickbooth Affiliate Network ?
CPA stands for Cost per Action. The publisher gets paid when the visitor click on the ads & then do a specific action which includes Buying, Downloading software, Signing Up with sites, etc. Now you must be having the idea of how advertiser pays publisher in the pricing model.
Benefit of CPA in Clickbooth Affiliate Network
Now a publisher don't have to depend on the number of clicks which sometimes lead or not leads to any conversions, moreover publisher gets paid just according to the visitors action. This helps to generate good amount of revenue from your web sites.
What are benefits of Clickbooth Affiliate Network to Publishers :
It helps in increasing the revenue generated from their web sites with great looking ads .
The code which Clickbooth gives to its publishers is very easy to apply on the web site.
As already told the Clickbooth Ads provide highest payouts to its publishers.
With the use of Advanced tracking technology the Clickbooth pays for every genuine click.
You can choose higher payout ads from the huge inventory of Clickbooth.
Clickbooth has also started their Twitter page which helps their users stay updated whenever there's any change.
Signing up with the Clickbooth Affiliate Network:
To sign up you just have to fill up the form like the one given below :
After completing the form then click on Continue & in the next step,you will be asked to give your phone number, after submitting you phone number you will receive a call which will tell you a pin code. Then fill the code & you will see a new form on which you will give information regarding your web site.
When you finish filling the form, your web site will be sent for review by the administrators & you will receive call about the status of your web site between or after 72hrs of submission web site .
What's different in Clickbooth Affiliate Network which makes it separate from others :
Clickbooth is the only company that has a very high payouts for its publishers which helps publishers a lot.
Clickbooth provides top brands for advertising on your web sites.
The blending of Clickbooth ads with the content gives easy search engine access & content synchronization .
There are new updates in the clickbooth industry which brings branded advertisers to your web site.
You get access to new offers daily & you choose them accordingly.
The clickbooth team is available 24/7 which helps users anytime & anywhere.
It is the only comany which gives full fledge international service to its users.
You can opt for payment options accordingly.
If you like my post then you can subscribe to my feed by clicking here
.