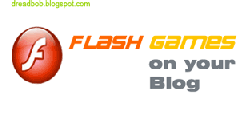 Blogs can be made even more entertaining & addicting with Flash games. Games not only attract visitors to your Web site but also force them to spend more & more time on your Blog. Blogging with these flash games helps you interact with your visitors in an enjoyable way, as both share each others score, experiences & ask for help like when they get stuck at any level & want some cheat codes !!
Owensworld.com is one of the flash game sites which allows you to play on the site. Moreover the thing which is interesting is that , they allow you to paste those games on your own site too! The site offers Hundreds of games under many categories like:
Action
Adventure
Fighting
Strategy
Driving & more...
Embedding the Games
The way to embed to these games is very much similar to embedding a video.
Copy the code of the game.
Go to your Blogs settings & under ' Edit layout' click on the Add a page element.
Now click add a JavaScript/ Html code & paste the code.
You can also add these games into your Blog posts ,by just copying & pasting the code.
Here are some more site which offers free flash games for Blogs :
So have some games on your site & let your visitors enjoy your blog..
Happy Gaming!